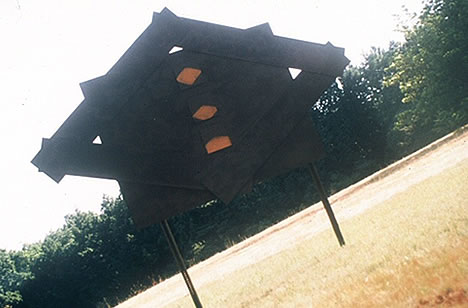 John Latham Knapp is a painter and sculptor interested in the cross-cultural referencing of form and symbol. Sculptural concerns are often reflected in painting and vice verse. Found objects and arte povera materials are important to the work. His artwork reflects a continuity of thought and evolving themes that spans more than 30 years.
Recent themes in painting and sculpture use archetypal form and visual imagery as yantra. Two-dimensional work includes paintings on luan often incorporating copper or steel, photography, works on paper and collage. Sculpture is made of steel and wood, cast cement or natural stone, colored and juxtaposed with steel or wood.
Outdoor installations include "Diamond Site", completed at the International Stone Symposium, Andres Institute, Brookline, NH, in 1999. Here, fifty-five boulders were installed on the side of a mountain in an area 40' x 30'. At that time the Symposium included sculptors from the Ukraine, England, the Czech Republic, Latvia and Lithuania.
More recently, "Lozenge Plane" defined an area 10,000 square feet in Maudslay State Park, Amesbury, MA in 2001.
In addition, John curated Maine Abstract Art 1995 for the Danforth Gallery, Portland, Maine, and for nine years Contemporary Outdoor Sculpture at The Moses-Kent House Museum, Exeter, NH. He has taught at Boston College and New England College.
John Knapp's background is varied and unique. He lived and studied in Montpellier, France in the mid-1960's and traveled to Barcelona, Geneva, Rome, Florence, Pisa, Corfu, Athens, Mykonos and Delos. He earned his degree in psychology, with additional studies in French, the modern theater, and literature at the University of Baltimore. In addition, he studied art at the Maryland Institute, College of Art.
Asian, Himalayan, and Indian art and thought are important references for John's work. He traveled to Japan; Tokyo, Kyoto, Shigaraki, Imbe and Takayama to research traditional Japanese ceramics, aesthetics and architecture. He has studied oriental art in storage at the Freer Gallery of Oriental Art, Smithsonian in Washington, and at the Museum of Fine Arts in Boston.
John has traveled to Morocco, Fez, Marrakech, Ouarzate, the Canary Islands, Puerto Rico, Jamaica and Barbados. Additionally, he has traveled to Mexico four years and lived in Merida, Yucatan. He has visited Lisbon twice and wintered in Antibes and Golfe Juan on the French Riviera. He has traveled to Napoli, Capri,Sorrento and Pompeii and recently returned to Nice, France and Merida, Yucatan.